The group, initially called the Migrant Artist Community, got together in 2019. Their first exhibition 'Transhumance: The Nomadic Artist: Part of This Land', was held in February 2020 in Phizzfest: The Space a gallery in Dublin 7. The group re-named Art Nomads then staged an exhibition online for World Refugee Week in June 2020 in collaboration with Christ Church Cathedral Dublin and Counterpoints Arts UK. In September 2020 Art Nomads worked with curator of collections at IMMA Christina Kennedy to provide a series of participatory workshops 'Mask, Myth and Multiple Cultures' to complement their Paula Rego retrospective. In October 2020 the group were featured artists with the Arts and Human Rights Festival run by Smashing Times International Centre for The Arts and Equality.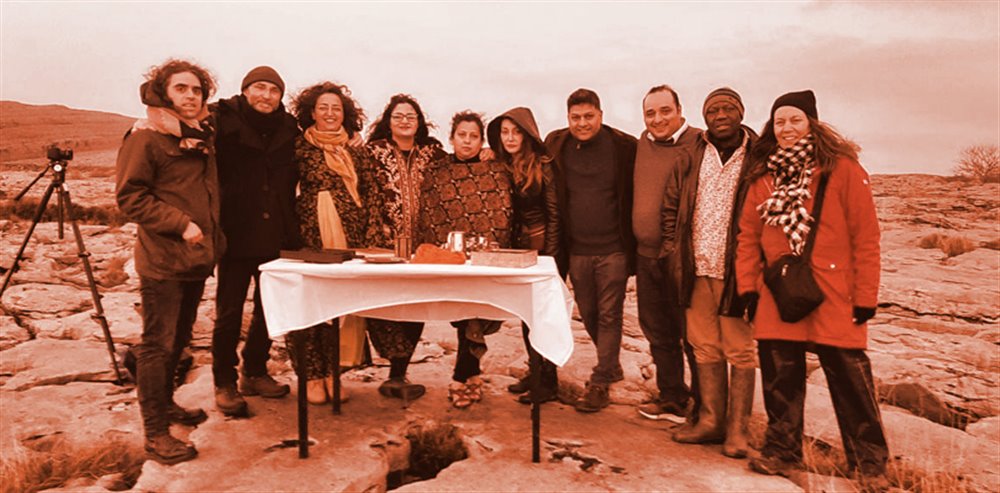 From Left to Right:
> Helio Leon, Tomasz Madajczak, Insaf Yalcinkaya, Amna Walayat, Hina Khan, Roxana Manouchehri, Antonio D'Souza, Muhammad Achour, Joe Odiboh, Laragh Pittman <


| CURICULUM VITAE ART NOMADS |
Art Nomads is a collective of culturally diverse artists living and practicing in Ireland. With very different experiences and heritages as well as art and design specialisms, they each have their own individual practice across a range of media from urban design to miniature painting, video installation and sculpture. As well as staging exhibitions and events, Art Nomads aims to work as a capacity builder and advocate for artists from diverse and minority ethnic backgrounds in Ireland. Early on during the groups formation, members attended the launch of the Equality, Human Rights and Diversity Policy in 2019 and individuals have gone on to be consulted by the Arts Council in its ongoing implementation.
Current members: Muhammad Achour, Antonio D'Souza, Hina Khan, Roxana Manouchehri, Tomasz Madajczak, Joe Odiboh, Rajinder Singh, Amna Walayat & Insaf Yalçinkaya.
Artist Laragh Pittman is working as administrator and sometimes curator.
PROJECTS/ EXHIBITIONS/ PRESENTATIONS
> ARTISTS INITIATED PROJECTS Upcoming in September 2022
The Collective have been awarded a showcase with Pallas Studios and Galleries in Dublin.
> SOUK/BAZAAR 2021-2022
a collaborative participatory multimedia project. The Film element in progress with Spanish filmmaker Helio León. The first stage of which was filmed on location in the Burren County Clare.Funded by the Arts Council Arts Participation Project Award. Mentored by Irish artist Jesse Jones & Singapore/ London based curator Annie Kwan.
> EXIT WEST December 2021
Reading Group 'Exit West' by Mohsin Hamid with members of Art Nomads collective, Jesse Jones & invited activists, academics and community leaders.
> SOLIDARITY December 2021
Test Space Residency Interview sessions with Art Nomads members with Dr Rajinder Singh on subject of 'Solidarity' for his research project and Virtual Artist in Residence, Limerick City Gallery of Art.
> VIRTUAL ARTS CENTRE Nov 2021
Group show, Arts & Human Rights Festival, Smashing Times
https://smashingtimes.ie/virtual-arts-centre/
> FORMING A COLLECTIVE April 2021
Online presentation to students at Tehran University
Laragh Pittman with Roxana Manouchehri
> MATERNAL GAZE Spring 2021
Series of self -made short films for a project looking at the relationship between the artist and his/her mother inspired by the work of Lucian Freud & Chantal Joffe. IMMA online.
> MIGRANT & TRAVELLER ACTIVISM Jan 2021
Inclusion in new website collection of migrant and Traveller led organisations in Ireland. Instigated and edited by Ronit Lentin and Irma Bochorishvili.
https://migranttravelleractivism.wordpress.com/
> NOT THIS FUTURE – YOUNGSOOK CHOI Nov 2020
Curator Annie Kwan invited Art Nomads artists to participate in a collaborative film/performance with Asia Arts Activism. To commemorate the lorry deaths of 39 Vietnamese people.
> MIGRANT SHIP Oct 2020
Speculative boat building project. Presentation by Rajinder Singh, Antonio D'Souza and Laragh Pittman at Arts & Human Rights Festival, Smashing Times.
> MYTH, MASK & MULTIPLE CULTURES Sept 2020
​Series of participatory workshops in the People's Pavilion IMMA to compliment Paula Rego Exhibition with Roxana Manouchehri and curator Christina Kennedy.
> RE-IMAGINING THE ART SPACE July 2020
Presentation to Women4Women online event in Dun Laoghaire Rathdown, by Hina Khan, Amna Walayat, Roxana Manouchehri, Insaf Yalçinkaya and Laragh Pittman
> IMAGINE June 2020
A series of short films following a journey through Christ Church Cathedral in Dublin, with projected artworks, artists voices and Commissioned spoken word pieces by Christiana Obaro, Selema Letsie, Diane Ihirwe & Rosemary Kunene for World Refugee Festival Counterpoint Arts UK.
https://www.christchurchcathedral.ie/imagine/
> TRANSHUMANCE: THE NOMADIC ARTIST: PART OF THIS LAND Feb 2020
Inaugural group show in gallery The Space: Phizzfest with self-published catalogue with forward 'The Potent Wayfarer' by Dr. Gerry Kearns, Professor of Geography, NUI Maynooth.